Nearing debt records, tech, media, telecom companies start to pare back
Record-low interest rates and a long bull market helped to fuel several big debt-financed acquisitions in the technology, media and telecommunications sectors, but as debt totals approach levels not seen since just before the 2008 financial crisis, many TMT companies are looking to cut back.
U.S. TMT companies together ranked second among all sectors for total debt in 2018, with $1.75 trillion outstanding, behind only the financial sector, which had $10.08 trillion, according to data from S&P Global Market Intelligence.
Moody's debt analyst Neil Begley said that while many TMT companies strategically borrowed in recent years to finance M&A, share repurchases and other activities, the industry is beginning to shift strategies to prepare for a potential market downturn. Some, like AT&T Inc. — the top TMT debt holder in 2018 with $179.11 billion outstanding — are installing revolving credit facilities to provide liquidity in case there is any disruption to their access to capital markets at current rates, Begley noted.
"It's something we would expect most companies to do even if they have a lot of cash," the analyst said.
AT&T drove up its debt levels to finance its $109.26 billion acquisition of Warner Media LLC, which closed last year. During a March investor conference, AT&T CFO John Stephens said it plans to pay $12 billion of that debt in 2019, driven in part by asset sales.
"We want to, most importantly and always on the front of our list, pay down debt," Stephens said at the conference.
Comcast Corp. also saw its debt rise after the company's $49.69 billion acquisition of Sky PLC. Comcast said in its 2018 Form 10-K filing that it will pause share repurchase activity under its $12 billion repurchase program "to accelerate the reduction of indebtedness we incurred" in connection with the Sky deal.
Comcast was the fourth largest debt holder in the TMT sectors at the end of 2018, with $111.74 billion in total debt, up from $64.56 billion a year earlier. It was one of only a couple of companies among the top 20 TMT sector debtholders to show a significant year-over-year increase in debt between 2017 and 2018. Apple Inc. and Verizon Communications Inc., the No. 2 and No. 3 largest TMT debtholders — with $114.73 billion and $113.94 billion in total debt in 2018, respectively — both reported small reductions in their debt loads between 2017 and 2018.
The Time Warner and Sky deals are part of a wave of consolidation in the media landscape as companies grapple with significant changes in consumer behavior, including a massive shift to digital and on-demand video content. While attractive sector targets remain, Moody's Begley said he expects sector M&A activity and debt holdings to retreat in 2019 and beyond given concerns about an economic correction and record levels of sector leverage.
However, Fitch analyst Patrice Cucinello said "sub-scale" media companies could still make attractive acquisition targets, even in a more challenging market environment.
"I would not be surprised if we see more consolidation," she said.
She pointed to smaller pure-play cable network companies such as Viacom Inc., AMC Networks Inc. and Discovery Inc., which have been cited as potential targets and would be vulnerable to cyclical ad-revenue declines in the event of an economic downturn.
---

US Broadband Only Homes Surge In Q3 Ahead Of Disney+ Launch
---

Architectural Shift In 5G Core Needed To Meet IoT Demands
HIGHLIGHTS
The following post comes from Kagan, a research group within S&P Global Market Intelligence.
To learn more about our TMT (Technology, Media & Telecommunications) products and/or research, please
request a demo
.
A recurring theme at this year's 5G Core Summit was that implementing 5G is not building a network for a single customer but for a whole society. To accomplish this, the 5G core needs an open and digital infrastructure defined by software that takes advantage of digital technologies such as cloud-based networks and software-defined network programmable connectivity. The summit, held in Madrid Sept. 24-25, featured operator, vendor and regulator presentations on how the industry needs to change its thinking of the 5G network to bring in new revenue streams as well as have multivendor core capabilities.
According to Enrique Blanco, global chief technology and information officer at Telefónica Spain, it is key to have different vendors offering different components to the 5G core to take advantage of 5G's full potential in terms of services — meaning no single vendor or country should control the end to end of the 5G core network. To achieve this, service providers need to consider three factors when establishing 5G core networks: open sourcing, network slicing and security.
Franz Seiser, vice president at Deutsche Telekom AG, described open sourcing as a game-changer in 5G. Less software coming from one supplier allows for faster functionality cycles because of the ability to focus on one piece of software at a time. This leads to more competition on the supply side, which is a boost for innovation. Paul Ceely, director of network strategy at BT, echoed the need for open source, arguing that in order to cope with the increase in data traffic 5G is set to bring from different verticals, the core network needs a huge amount of flexibility. The full range of these verticals is still unknown to most, so the platform needs to be extremely flexible to allow for new applications as they are needed over the next 10 years.
Lucy Lombardi, senior vice president of digital and ecosystem innovation at Telecom Italia, built on this argument. Lombardi said with the heavy investments made in 5G, operators need to be effective in optimizing investment strategies, and open source needs to be a strong focus for this to be achieved.
Network slicing is the process of separating several virtual networks on the same physical network infrastructure for the delivery of different services. Each slice has its own end-to-end network management to support a particular application. The concept of network slicing is not a new one and has been implemented partially by network sharing technology, but its potential has expanded with the arrival of 5G. During her presentation, Maria Cuevas, principal manager of the mobile and 5G research team at BT, said, "New technology enablers have come along such as network function virtualization that have allowed for more flexibility and network slicing. Network slicing in 5G is key as it gives way for complete end-to-end tailored slicing, allowing operators to serve the requirements of multiple business purposes in the most cost-effective way possible."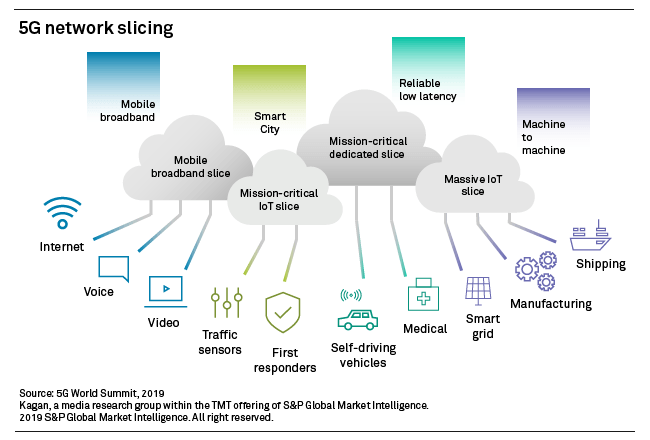 This end-to-end tailoring means operators can break down bandwidth, latency and chain network function virtualization to ensure the delivery of key functions and services in the internet of things domain use the 5G core as efficiently as possible.
Unlike its predecessors, the 5G use case is integrally different due to its ultra-low latency and exponentially faster output — its main strategic motives and selling points lie in IoT rather than the consumer segment. Moving away from business-to-consumer and into the business-to-business market brings about a higher need for increased security as there is less tolerance to risk.
According to Lise Fuhr, director general at ETNO, when thinking about mass IoT adoption such as remote telesurgery, self-driving cars and electricity on demand, operators need to consider how to secure infrastructure against the specific IoT service being delivered. Network slicing is key to this. Walter Wang, president of Huawei wireless and cloud core network marketing and solution sales at Huawei Technologies Co. Ltd., echoed the importance of network slicing in 5G security but also said there is a strong need for artificial intelligence to allow for predictive analytics and security automation to support machine learning algorithms and manage the complexities of the network.
---

US Consumer IoT Market: Key Penetration Rates Creeping Toward 30% in 2023
The internet of things is driving a great deal of investment from both the technology and telecommunications industries, although penetration rates in key consumer IoT segments in the U.S. market continue to be modest.
The percentage of U.S. consumers who use a wearable technology product, have a connected car or a smart home is stubbornly hovering around 20%, with only slight growth expected in 2019. Despite increasing demand in some product segments, convincing consumers that there is real value in IoT-enabled products and services remains a challenge.
To gauge the growth of the U.S. IoT market, Kagan focuses on three primary consumer IoT market segments:
Wearable technology.
Connected cars.
Smart homes.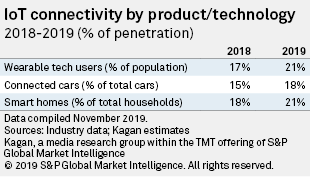 By year-end 2019, approximately 21% of U.S. consumers are projected to be wearable technology users. Most of these consumers are wearing a smartwatch or fitness tracker, although an increasing number are using "hearable" devices such as Apple Inc.'s AirPods.
The number of smart homes is also growing, but with only 21% of all homes in the U.S. forecast to be "smart" at year-end 2019, overall penetration remains relatively low. The percentage of connected cars on the road has also grown slightly over the past year, with 18% of vehicles projected to be connected by late 2019.
Wearable technology products are compact electronic devices designed to be worn. While some of these products have been around for years, today's wearable products offer a greater range of features and are much more consumer-friendly than past iterations. Wearable products today take advantage of advanced technologies that have markedly improved important components in the products, such as displays, processors, batteries and input/output systems.
The recent improvement in the overall wearable technology experience, particularly in consumer acceptance and demand for differentiated products, has attracted a growing number of new vendors to the market. In 2019, vendors with announced wearable technology products range from Fortune 500 firms with multiple devices to start-up companies with a single product. Some well-known examples include:
Apple, with its market-leading Apple Watch and AirPods wireless earbuds, or "hearables."
Fitbit Inc., a leader in fitness tracker products.
Samsung Electronics Co. Ltd., with its Gear-branded smartwatch and fitness tracker products.
Seiko Epson Corp., with its Moverio line of smart glasses.
Generally, people in the technology and consumer electronics industries think of wearable technology in terms of electronic products that extend the functionality of a smartphone or provide sensor-based information about a user's physical status or health. Most of the widely available wearable tech products fall into five broad categories:
Fitness trackers.
Smartwatches.
Head-mounted smart glasses.
Hearable devices (wireless earbuds).
Other products, including smart clothes and connected jewelry.
Despite historically uneven growth and some significant challenges to the fitness tracker product segment, the wearable tech market is still a growth market. The explosion in demand for wireless earbud products over the past year underlines the dynamic growth potential of wearables.
A significant challenge to long-term growth continues to be the true "value add" of wearable tech products. Consumers who have either owned or use a wearable tech product often note that the devices are "nice to have," but are in need of further refinements before they can be deemed "must-have." In addition, a large percentage of other consumers simply show little or no interest in owning any type of wearable tech product.
The penetration rate of U.S. consumers using a wearable technology device is projected to rise from 21% in 2019 to 30% at year-end 2023.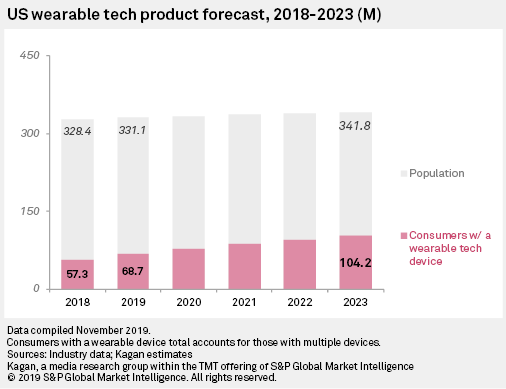 The market for connected cars in the U.S. is growing, although at a somewhat plodding rate. Driven by large telecom service providers like Verizon Communications Inc. and AT&T Inc., the total installed base for vehicles with embedded in-vehicular cellular (3G or 4G LTE), which is our definition of a basic connected car, is expected to reach 18% of total U.S. vehicles, or 49.2 million, by year-end 2019.
Cars with 5G wireless technology are in the testing phase, and with low latency and faster downloading speeds, the connected car could be one of the biggest beneficiaries of the new wireless standard. But first, local administrations and telecom companies must build the infrastructure for 5G to prosper. 5G is still a few years away for connected-car manufacturers that want to provide the technology in their vehicles — a hybrid 4G/5G system is more likely.
While 5G networks' transmission speeds help vehicle-to-vehicle, or V2V, and vehicle-to-anything, or V2X, communications by boosting efficiency and safety, the auto industry must innovate around the technology for mass-market adoption. 4G LTE is expected to be the primary connected-car wireless network, which we estimate should surpass 78% of total in-vehicle cellular systems in 2023.
The percentage of U.S. consumers with a connected car, including cars using aftermarket connectivity solutions, is forecast to rise from 18% in 2019 to 33% in 2023.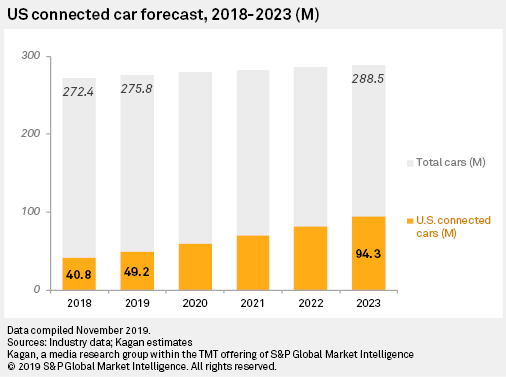 Despite the growing popularity of several smart home applications and products, most U.S. homes are still not "smart," according to Kagan's definition.
Kagan estimates that the number of U.S. smart homes will grow to over 26 million at the end of 2019. While this total equates to only 21% of total U.S. households, that percentage is forecast to grow to 32% by 2023.
While the utility and benefits of the smart home remain questionable to some potential adopters, the broader desire of consumers to connect and exercise more control of electronic devices in their home is a positive long-term trend for the smart home.
When using the term "smart home," a key industry issue is agreeing on what exactly makes a smart home "smart." Kagan defines a smart home as one equipped with network-connected products — or "smart devices," connected via Wi-Fi, Bluetooth or similar protocols — used for controlling, automating and optimizing functions such as temperature, lighting, security, safety or entertainment, either remotely by a phone, tablet or computer or by using a separate system within the home itself.
To be categorized as a smart home, the property must have either a smart security feature that controls access or monitors the property or a smart temperature feature, in addition to a reliable broadband internet connection. It also must include at least two additional features from this list:
Lighting, such as smart light bulbs and lighting systems, smart plugs.
Safety, such as smart fire/carbon monoxide detectors and nightlights.
Entertainment/information, such as smart TVs and smart speakers.
Appliances, such as smart refrigerators, washers or dryers.
Heating/cooling, such as a smart HVAC system, smart fans or vents.
Outdoors, such as smart plant sensors and watering systems.
Security, such as smart locks, smart alarm systems or cameras.
Temperature, such as smart thermostats.
With its requirement for a home access/security feature or a smart thermostat product, this definition is more restrictive and narrower than others used across the industry. However, most smart home industry participants believe it offers a better description of the current smart home as opposed to a broader definition that might, for instance, designate any home with an installed smart speaker as a smart home.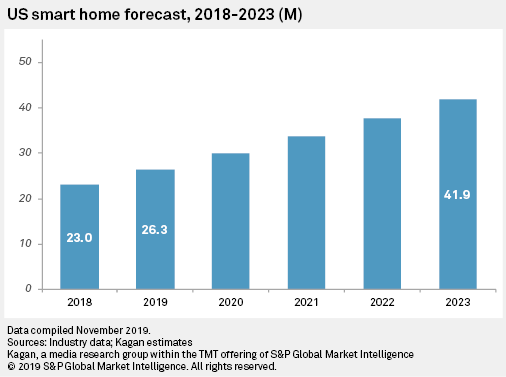 The future of the U.S. consumer IoT market
While we are projecting accelerating growth over the next several years for each of these consumer IoT market segments, we are not forecasting the penetration rate for any of the categories to reach 30% until 2023.
As a large percentage of U.S. consumers continue to be skeptical about the benefits provided by consumer-based IoT products and services, especially when considering the added costs that can come with their usage, growth throughout the forecast period is expected to remain incremental.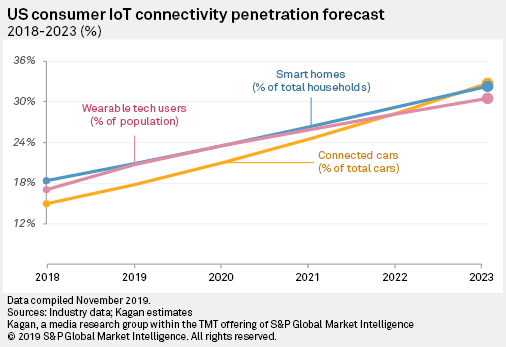 ---

South Korean Multichannel Industry To Survive With Right Strategies
As the cable subscriber base continues to contract in South Korea, panelists at the 2019 Korean Cable Television Association Conference held Nov. 7 in Seoul, South Korea, discussed if the local cable and multichannel industry will survive and opportunities to drive growth.
The South Korean multichannel market is highly saturated with an expected 34 million subscribers by year-end 2019, which translates to penetration of 170%. Driving this high penetration is the fact that many households subscribe to more than one multichannel service, mainly cable and IPTV. As cable subscriptions remain low-cost, most subscribers do not cut their cable cord even if they get an additional multichannel service that is likely bundled with their broadband and/or mobile subscriptions. That said, Kagan estimates IPTV will overtake cable as the dominant multichannel platform with an approximately 46% subscriber share by year-end 2019.
With the announced merger of SK Broadband and t-broad Holdings Co.Ltd. as well as LG U+'s acquisition of CJ Hello being conditionally approved by the Korea Fair Trade Commission, cable could be seen as a sunset industry. Apart from looking for a potential buyer, most cable MSOs in South Korea are not actively seeking opportunities to turn around their declining businesses.
However, panelists agreed that the cable industry — and the multichannel industry, in general — can still survive as long as they adopt the right strategies at this critical time. Over-the-top is a threat yet can present opportunities to multichannel operators via partnerships. In these partnerships, OTT service providers gain access to multichannel operators' established subscriber bases while multichannel operators can leverage the content libraries of their OTT partners. Multichannel operators in many parts of the Asia-Pacific region are exploring new partners and partnership models. Astro Malaysia Holdings Bhd., for example, acquired exclusive rights to deliver iQIYI Inc.'s content in Malaysia, while iQiyi launched its first branded linear channel on Astro. In Taiwan, cable MSO Taiwan Optical Platform Co. Ltd., or TOP, has partnered to offer access to LINE Corp.'s OTT service Line TV through its set-top box. In return, news content produced by TOP's four local channels is broadcast live on dedicated channels on Line TV.
Dr. Jong-Kwan Lee, an expert advisor at law firm Shin & Kim, predicted that the role of multichannel operators will evolve and become a platform of platforms, including TV and related services. In South Korea, where consumers are willing to try and pay for the latest technologies, telcos see opportunities to develop new revenue streams from the rising artificial intelligence and internet-of-things-related technologies. KT Corp. recently announced it had upgraded its IPTV service by adding AI and virtual reality technologies. It was the second to do so, following SK Broadband. Telcos benefit from deep learning analytics to understand their customers better to provide optimized services and targeted advertising. These tailored services enhance the TV viewing experience while the latest technologies can be used to provide health and education-related services currently offered as value-added services by the telcos and a few cable MSOs.
Panelists agreed that the government's role in regulating the OTT industry is crucial for the survival of the multichannel business. A digital tax — similar to the tax on digital imported services that will be launched in Malaysia — has been discussed in South Korea for some time, but no concrete plan has been confirmed. To defend the industry against foreign OTT players such as Netflix Inc., a higher tax on video consumption imposed on foreign players is preferred by the industry. By regulating OTT platforms, traditional pay TV service providers could compete on a more level playing field.